Our CEO, Patricia Phillips, is a champion of the arts and the positive impact it has on the community. This mural is reflective of her vision and embodies who PBA is as a company. Each decorative element of the mural was chosen for a specific reason. The peacock is a key decorative element within The Dorian hotel, the first hotel that PBA is currently building and slated to open in June 2022. The sideways female head is significant as PBA is a women-owned and run company. Finally, the daffodils are the flower that 'help hope grow' during the Canadian Cancer Society's annual Spring campaign. This is close to our heart as our founder, Joe Phillips passed away from cancer in 2003.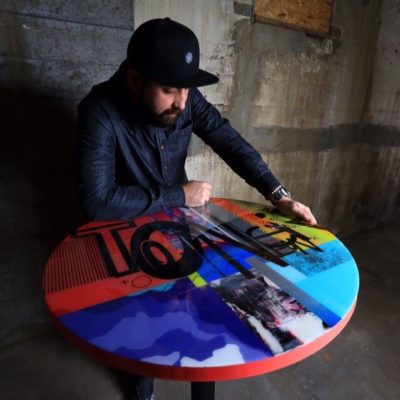 Sergey Ryutin, also known as 'Toner', is a mural artist based in Calgary. He is a self-taught artist who began his creative journey doing graffiti in the late 90s/early 2000s as it was new, cool, and a rush which are all the reasons why many other artists get into it.  As his priorities shifted and he pushed himself artistically murals became a natural transition for him to focus on beginning in 2013.
In Toner's own words 'each creative project is special in its own way with its own story behind it.' Some have been great learning opportunities to improve his craft. Most of his projects are in Calgary, although he has expanded into B.C. Sergey's latest mural can be found on the side of Hume Hotel in Nelson, B.C.
Follow Sergey on Instagram @bravotoner @chekacreative