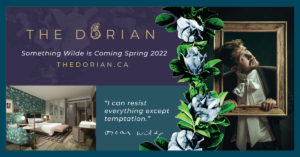 PBA was thrilled to welcome members of Calgary's media on the morning of October 27th for an exclusive behind the scenes look at The Dorian Hotel, the first new hotel built in Calgary's core in over a decade. We were able to showcase the project's progress and provide a glimpse into what visitors and local alike can expect from Calgary's newest luxe hotel.
The Dorian will reflect – and help define – the best the city has to offer. The dual-brand hotel draws inspiration from the whimsical nature of Oscar Wilde and his novel 'The Picture of Dorian Gray,' combining British charm with vibrant, contemporary design. With its design-forward architecture and tailored guest experiences, The Dorian will place among the best hotels in the world, boosting Calgary's growing reputation as a must-see international destination.
We were fortunate to have The Dorian featured prominently on local TV news and radio, as well as nationally. Check out the revealing article from CTV News Calgary to get a look behind the curtain at The Dorian by CLICKING HERE.