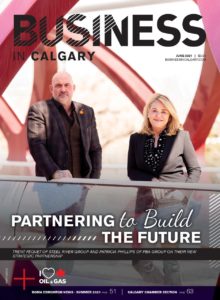 We are thrilled to see PBA's CEO Patricia Phillips and Steel River Group's Founder & CEO, Trent Fequet being featured on the June cover of Business in Calgary magazine. Thank you Pat Ottmann and the Business in Calgary team for allowing us to use your platform to tell the story of our new strategic partnership!
With the shared value of building resilient and prosperous communities, PBA Group and Steel River Group look forward to supporting and enhancing Indigenous Partners and building Indigenous communities across Canada. This synergy will provide the foundation for a collaborative and lasting partnership. Steel River Group will work with PBA on a diverse scope of projects, including several developments and expansions in British Columbia. We anticipate announcing our first project soon. Continue to follow us for this and other exciting announcements.
To read the rest of our story you can read the digital copy of the Business in Calgary June issue by clicking on the above image. Enjoy!