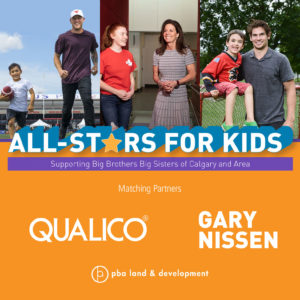 At PBA, we believe that kids with caring, supportive relationships can overcome just about any challenge. We also believe that mentoring has the power to create a brighter future for children, families, and our entire community. It's because we believe so strongly in these things that we have joined All-Star partners Qualico and Gary Nissen, to match donations made to Big Brothers Big Sisters through the All-Stars For Kids campaign. Together we will match up to $160,000 to raise a total of $320,000 during the month of August.
An impressive line-up of local sports stars, athletes, and Olympians have come on board to support this year's campaign, including:
Cheryl Bernard, Olympic medalist in curling
Stamps QB Bo Levi Mitchell
Sean Monahan from the Calgary Flames
Two-time Olympic gold medal curler John Morris
Olympic Wrestler Jasmine Mian
Stamps President & General Manager John Hufnagel
Cavalry FC players Nathan Mavila and Elija Adekugbe
Rebecca Johnston, three-time Olympic medalist in hockey
These All-Stars, along with the other champions are helping to build awareness for the importance and impact of mentoring.
The Importance of Mentoring
Inherent in every child is incredible potential, and we all have a role to play in ensuring young people in our community have the support they need to realize that potential. Children who have the support of caring, supportive mentors do better in school, go on to successful careers, give back to their community, and live happier, healthier lives.
Why Support All-Stars For Kids
The funds raised from the All-stars For Kids campaign will empower life-changing mentoring relationships for children and youth in our community who are dealing with challenges that no one should have to face alone.
When you support mentoring you are not just investing in the future of a child, you are making an investment in the future of our entire community. It's an investment that pays big dividends – for every dollar spent on mentoring, up to $23 is returned to our community.
Last year, All-Stars For Kids raised over $317,000 to create brighter futures for children and youth facing adversity. PBA joined our tenant, Big Brothers Big Sisters, to support their campaign because we believe in the power of mentoring and we want to ensure we raise even more money this year to help.
Make a donation and we match it dollar for dollar.
To make a donation online, visit allstarsforkids.ca/pbadonate
Together we can make an even 'BIG'ger impact and build a future where children and youth in our community are resilient and thriving.